Need a few things to do it yourself ? Need a bunch for a weekend project? Our parts department can put the right parts in the right hands, yours. We maintain a large inventory of parts and accessories. Please call us with any questions you may have regarding fit or application.
Putting correct parts in the hands that need them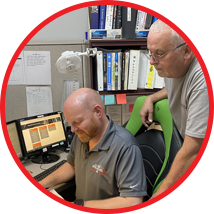 Ryan and John are ready to find the parts you need.
Chassis
Parts
We can provide parts for most RV chassis' including: Workhorse, Ford, Spartan, and Roadmaster.
Full Line RV Systems
If you are a "Do It Your Selfer" you are going to need parts. We have access to parts for all the systems in your RV. We can help keep your project going.
Towing System Parts
From tow bars to supplemental brake and light systems including wireless tow lights. We can provide for all your needs.


.....and the parts department was just great. We weren't sure of that parts proper name or exactly how to order it. Rather than making us feel dumb they walked us through everything and the part arrived in 2 days. Thanks everyone!


There are service departments and parts departments. You guys have a parts department that has great customer service. Our greatest thanks to y'all.